CHANGE THE SPEED LOCK VISE JAWS IN JUST 30 SECONDS!
MISSION
Winn Manufacturing's goal is to provide our customers with quality CNC machined parts and on time deliveries. This leads to profitability for our customers and Winn Manufacturing.
Winn specializes in CNC machining of medium and high volume production runs. Our strong suit is turning and milling gray iron and aluminum castings Facilities: 3 CNC turning centers, 1 CNC horizontal machining center, & 3 CNC vertical machining centers, conventional turning and milling machinery to handle small lot sizes and custom jobs
UPCOMING TRADE SHOWS
Visit with us at one of our trade show appearances!
2/13/18 – Newark DE
3/7/18 – Shrewsbury MA
4/18/18 – East Hanover NJ
5/9/18 – Newark DE
5/16/18 – Shrewsbury MA
6/6/18 – East Hanover NJ
6/13/18 – Rochester NY
WHY CHOOSE THE SPEED LOCK VISE?
---


EASY TO CHANGE
Easily change out your vise jaws in as little as 30 seconds!


USA MADE
Learn why the Winn Speed Lock Vise is the best vise on the market!


SAVE TIME
Check out how easy it is to use and change the Speed Lock Vise!


SAVE MONEY
Compare the Speed Lock Vise to our closest competitors!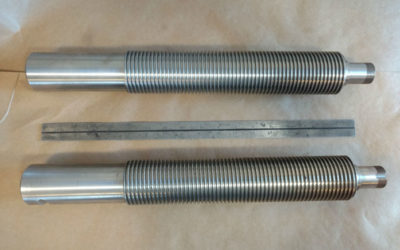 At Winn Mfg. we have CNC machined (4) 100 piece lots of the part in this photo over the past 18 to 24 months. The material is a 1141 cold finish bar and the Acme threaded section is approximately 11-1/2 inches long. All of the turning operations are done our CNC lathe... read more
BUY THE SPEEDLOCK VISE
As a manufacturing company we understand the time it takes to change out vise jaws.
Time is money, and every second you waste switching these is time you could be using to finish your project. Quit wasting valuable time changing out vise jaws for your next project. With the Winn Speed Lock Vise you can easily change out your vise jaws in as little as 30 seconds!
TESTIMONIALS
---
"We purchased 2 of Winn's Vises and were able to get a matched set at no extra charge. We are very happy with the quality."
-Mark Williams
"The quick change system of the Speed Lock Vise was a good fit for us, because we had quite a few custom jaws that we use and we were able to use them with the vise with no modification"
-Rob Marshall
WATCH HOW FAST SPEEDLOCK IS
---